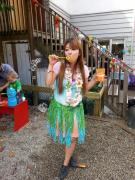 Nina
Vancouver / Burnaby, , BC.
First Language
日本語
2nd. Language
English [Fluent]
Sex
Female
Education
Vocational School Graduate
Sitter Location
Guardian's Home
Sitter Experience
Experienced [4.0 year(s)]
Nina 's Self-Introduction
I am Japanese, I am looking for Baby sister job ( I have ECE licence)
Hello, I am Nina, I would like to apply for the position. I strongly believe that I am ECE qualified so I can take care of your children at my house!
I live in Burnaby , My house is an environment where children can be taken care of

Feel free to email or call 7783173915





Contact this babysitter
Sitter's Profile
Expected rate
$ 15.00 - 20.00
Age of children you will sit for

0-1 years old (Newborn)
1-3 years old (Baby)
3-10 years old (Kid)
10+ years old

Additional task you can provide

Supervision of more than two k
Letting kids play outside safe
Going for a walk with a stroll
Cooking light meal
Grocery Shopping
Light Housecleaning
Laundry
Pet Care
Caring for Sick Children
Potty Training

Special Skill

First Aid
Childhood Education
Nursery Teacher
Teacher

Reference
No Reference Available.
My Availability
SUN
MON
TUE
WED
THU
FRI
SAT
0 am -
3 am
3 am -
6 am
6 am -
9 am
9 am -
12 pm
12 pm -
15 pm
15 pm -
18 pm
18 pm -
21 pm
21 pm -
24 pm
Available
Not Available
| | |
| --- | --- |
| Job Types | Full-time |
| Available working period | |
| Other Special Request can be asked for. | |
| Comment | |
Member Since
Aug. 31st, 2014
Last Login Date
Jan. 15th, 2022
Profile Last Updated
Mar. 6th, 2021
Visitor to this Profile
32878
Received Contact Email
21
Multi-language Profile