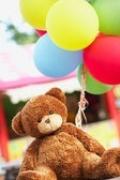 Minnie
Vancouver / Vancouver, BC.
Phone (Cell) 604-339-7906
First Language
English
Sex
Female
Status in Canada
Student
Education
University Graduate
Sitter Location
Guardian's Home
Sitter Experience
Not Experienced
Minnie's Self-Introduction
Looking for a part-time job, Have a nursing experience
Hello! I am Mint from Thailand. I have competent English. Now I have been studying in nursing college in Vancouver. I had 8 years of experiences worked as a registered nurse in Thailand. One year of working in medicine department and 7 years of working as a school nurse in elementary and secondary school. During being a student nurse, I was trained newborn care. Also, I love art and craft, so I can teach easy art and craft for kids (no expert). I am available afternoon to evening weekday and all day on weekend.

If you have questions, don't hesitate to contact me all time.
Thanks

Contact this babysitter
Sitter's Profile
Expected rate
$ 17.00 - 20.00
Age of children you will sit for

0-1 years old (Newborn)
1-3 years old (Baby)
3-10 years old (Kid)
10+ years old

Additional task you can provide

Supervision of more than two k
Letting kids play outside safe
Going for a walk with a stroll
Cooking light meal
Grocery Shopping
Light Housecleaning
Laundry
Caring for Sick Children
Homework Help

Special Skill
Reference
No Reference Available.
My Availability
SUN
MON
TUE
WED
THU
FRI
SAT
0 am -
3 am
3 am -
6 am
6 am -
9 am
9 am -
12 pm
12 pm -
15 pm
15 pm -
18 pm
18 pm -
21 pm
21 pm -
24 pm
Available
Not Available
Job Types
Part-time
Available working period

I can work from : May. 2nd, 2022
I can work until : Dec. 31st, 2023
Available immediately
Prefer long-term work

Other Special Request can be asked for.

Available for night time sitting

Comment
I am quite flexible
Member Since
Apr. 26th, 2022
Last Login Date
Oct. 26th, 2023
Profile Last Updated
Oct. 26th, 2023
Visitor to this Profile
910
Received Contact Email
1
Multi-language Profile
No profile in other language edited.